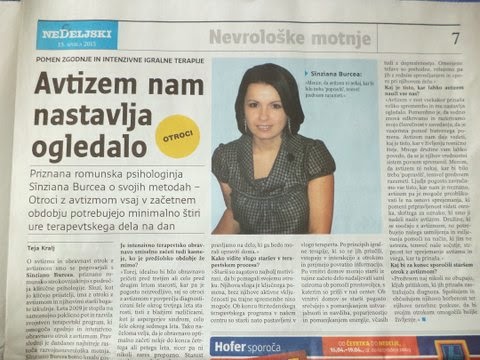 Why did you decide to work with kids with autism and their families? What was your inspiration?
Autism chose me! When I met the first child with autistic symptoms in 2002, I felt somehow overwhelmed by the situation. Any attempt of establishing a connection to the child was doomed to failure from the very beginning.  I felt a terrible pain inside my soul not being able to help him. In working with the family I was inspired by Mifne Approach in 2006.
Mifne Experience gave me strength, understanding, courage to co-exist with autism every day.
How did your autism career start and where are you now?
I started working as a school speech therapist in 2001, after this as a psychologist at a rehabilitation center for children with disabilities. Since 2008 I am active as clinical psychologist and adlerian psychotherapist in my own private practice office. We are a team of very enthusiastic adlerian therapists. Along with these people work with autistic children has become fascinating.
Why do you emphasize the importance of an early treatment of the kids with autism? What does it include, what does it mean etc.?
It's about brain plasticity and neuronal connections. Functional changes in the brain occur mostly when we learn new things and memorize new information. These changes in neuronal connections are what scientists call neuroplasticity. In the early years, the brain of the autistic child is growing rapidly and is very malleable. This includes a minimum of 4 hours of play therapy every day. Games are chosen based on the psychological and not chronological age of the child, and are tailored to the needs of the child.
What are the first signs of autism and how can the parents alone diagnose their autism child as soon as possible? What is the child's age at which we can be almost sure that they are children with autism? 
Between 2 and 3 years autistic manifestations intensifies. At three years, the symptoms are obvious, but therapy should be started before 3 years, even before 2 years old. In the first year of life the child does not respond to the mother's voice, does not respond when called by name, eye contact is low, do not point with fingers or do not babbles, social smile is missing and is not responsible to the stimuli transmitted by others, does not follow visual objects and has no joint attention, often have repetitive movements or repetitive game. After a year the child has repetitive speech, does not pronounce any word to 16 months, does not imitate, is not form sentences with two words up to 24 months, is losing speech acquisitions , manifest lack of interest in things indicated by adults; has no intention to respond when help is required.
Till what age of the children it is still appropriate to start with intensive therapies? Is it worth trying even when children are older? Probably better ever than never.
I think it's never too late. Extraordinary results were obtained with the children on whom we intervened until the age of 4-5 years.
How does your program looks like (etc. 4 week program) that you offer and what is the purpose of it? What are the most frequent obstacles that parent run into when coming back home?
Autism steals the most important right of the child, namely the play. The early intensive program is a complex thought in a holistic manner, which takes into account the two fundamental problems of children with autism: attachment disorder and sensory integration disorder. The first 4 weeks of intensive intervention are addressed equally to parents and children with autism. The goal of intervention is to obtain child connection and cooperation. Game sessions are designed so that the child with autism to see the game in all its complexity. In the 4 weeks parents can see their child's play sessions and gain a deeper understanding of how they can cope with the child. Parents are the most motivated people to help their child. Coming back home parents often face discouragement, lack of creativity, lack of inspiration, low energy and sometimes depression.
What previous theories inspire you, what have your experience been so far with intensive therapies for children with autism and their families?
Adlerian theory inspired me much because I learned how to interpret the autistic symptoms. Also Fances Tustin's books and those written by William Stillman. But what most inspired me was the child with autism itself. From him I learned everything I know today about autism in thousands of hours I spent with him in the therapy room. I have come so far that I "touched" the autistic child soul. Therapy results depend very much on the mental configuration of the parents and the therapists, but also projecting the right goals in therapy. We worked with 48 families with children aged between 18 months and 5 years. A number of 17 children of these families went out the therapeutic program and are integrated in every aspects of everyday life.
What is the parent role during the therapy process?
The role of parents is crucial in the recovery process. Basically without their involvement the change could not take place. Children with autism force you to live their life, parents learn how to make their own point of view related to the child.
Where are the advantages of the "play therapies" and why it is so unique (?) in comparison to other approaches?
The only way a small child can learn about the world is through play. The game develops thinking, creativity and imagination. Playing help the child to make friends. The game is a stolen universe of a child with autism.
How do you see autism and people with autism?
Autism is occupying much time in my life and during this time I feel great joy, but I am also suffering. In the therapy room with autism I have learned to think in an autistic way,  in order to connect with the child and understand better his world. I see autism as a balance with two cymbals and a child stuck between two worlds: in one of cymbals is our world (which the child perceives as frightening, without control) and second cymbal is autistic world (where the child feel safe and has control). Therapist / parent are one who tips the balance. As our world is safer for autistic child, the more the child will open to this world.
Is autism something that is always just bad? How is the rise of people with autism going to affect our social life? What will it bring?
Looking holistically, autism makes a big difference in the world, stopping humanity from a nonsense evolution. Autism is a mirror of our world. We are social beings and we need to understand that human mutual aid is essential. Each family raising a child with autism changed its value system. Autism in my life was a blessing when I accepted it as a profound lesson of life. Autism must not be repaired, but understood in its depths. It has a deep meaning and a message for humanity.
What is your message to the parents with children with autism and to all the autists?
I would tell them to never give up to the pressures made by a frightening diagnosis, because there is much hope in this process. I would say they are parents elected to bring a change in the world. I respect and also honor all their attempts to provide a better life for their child. I thank people with autism for how they awaken humanity within us and how they gather people around them as a "neural network" which is increasingly functional.
Why should all the people accept autists as they are and how will they help them when including them into their own environment (kids and adults)?
People reject anything that does not know or are not familiar. Autism is a way of being, but it can be shaped primarily by acceptance. Accepting autism means to be willing to know the person behind the label called autism. People may provide support for autistic child and his family, only in the way the family requires. Finally I would say that families with children with autism do not need advice or pity. They do very well with their child as long as they feel compassion, tolerance and acceptance from of all of us.
Teja Kralj
Nedeljski Dnevnik
Slovenia Aprilie 2015
Iti place acest articol ? Vrem si noi sa stim !






(3 voturi, media voturilor: 5,00)


Încarc...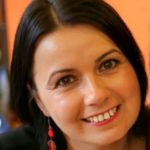 Psiholog Clinician Principal
Centrul de terapie Being MySelf – Terapie intensiva timpurie a copiilor diagnosticati cu Autism, Tulburare Pervaziva de Dezvoltare din Spectrul Autist sau PPD NOS si a familiilor acestora